Faith is the virtue of the little ones, and it can only be achieved with a lot of effort.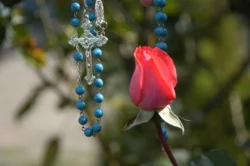 article (05/27/2022 10:03And the joy press) Let's start this article by talking about intolerance. As reported by this channel, on the night of May 15-16, vandals destroyed a picture of Nossa Senhora das Gracas, in the garden of the house of evangelists, in Seville La Nueva, Spain. According to the news, a few hours before the sacrilege, the inhabitants of the house heard blasphemy against God and the Virgin and swearing at the missionaries, which makes it clear that it was not a simple act of sabotage, but rather a planned and executed one. With hate and cruelty.
On the same day, the fifteenth, another such situation caught my eye. Friday May 13th, Father's Day of Our Lady of Fatima. Ricardo Basso provided interesting content, on the Esplendores de Maria, about false devotions to Our Lady, which I could only watch on Sunday. Whenever I watch an interesting video, I used to review the comments, and in doing so, I found a clip that ended up becoming the center of discussion among many netizens.
Since all the posts were very long, instead of running away from them, as usually happens when finding a "textão" on the Internet, I decided to read it. I confess I refrained from entering into the conversation, but I did not because I saw, from the beginning, that there was a needy person there, ready to draw attention to himself. From all that the young man wrote, two things stood out: the need to say studied and educated and the thorny terminology he used – though studied and educated, it was said, and very rude, it turns out. Arrogance and humility are two things that should not go together, but in the end everyone vomits what they have in their stomach.
Who are the fanatics?
The pseudo-wise young man accuses the Church of proselytizing the uneducated ("recruitment," as he put it, an inappropriate term, since conscription is more associated with the military and corporate world than with the religious world, but he is not to blame, not everything is taught or taught in school). He says that the faith of those who study was not well understood by the priests, and he laments that the people who have studied feel more and more abandoned so that "those who lack understanding can be favored."
First, I don't know who elected this young man to represent those who studied. Second, studying and understanding are two completely different things. It is not necessary to study in order to understand and not always those who study can achieve understanding.
We are talking about faith, and we are also talking about Christianity. Did Jesus study? we do not know. It is true that he read and wrote, but there is no document to prove that he was a doctor of law. Therefore, he did not divide history into what is before and after it to study it. Who is cherry? For the educated or the ignorant? Everyone preached, and precisely for this reason, he used very simple language, because what is perfect is simple, and he used the ideal language, a language called love, as one of those who responded to the well-thought-out man's provocation he remembers.
What is the difference between those who broke the picture at the Heralds house in Spain and those who make disrespectful comments on a website? no one. Both are related to the same intolerance. Those who broke it, and many other images in different parts of the world, those who invade churches, defecate inside them (in the literal or virtual sense), who enter holy places and shoot believers, who torture priests and laity. , today and in the time of the Roman Empire, they are the same people.
Study and understand
Jesus was preaching in the synagogues and preaching in the streets, on the beaches, in the fields, to crowds, or to small groups, in private meetings, when he was called to dinner in someone's house. But under no circumstances, their speech was the same, and their language was the same. His disciples and the Catholic Church, which is founded upon them, were entrusted with the task of continuing the evangelization, which still exists today. If some "learners" do not understand the message, it is their fault, not the fault of the Church. The shortcoming lies in the limitations of these people and not in the incompetence of those who preach or what they preach. This incompetence is not called lack of study, but rather pride, arrogance, arrogance, and a sense of superiority.
Or perhaps they need to study more, after all, Saint Augustine and Saint Thomas Aquinas, just to name two intellectual, well-understood personalities. When he spoke to Nicodemus – in the dead of the night, for that man who had studied a high position, being an authority among the Jews, though influenced by the master's doctrine, was ashamed of being he and held the office. Occupy, admitted that before Carpenter's teachings, he was considered by many to be an ignorant man, "no one," as we say today – having difficulty understanding the truth, Jesus asked him: "You are a master in Israel and do you not understand these things?" This is one of the passages that shows that the study Understanding are two different things.
Pride and prejudice
Jesus said: "I bless you, Father, Lord of heaven and earth, because you have hidden these things from the wise and the understanding and revealed them to children" (Matthew 11-25), and we cannot forget that it was not the little ones who conspired against the condemnation and death of Jesus, but the wise and teachers, scribes and Pharisees .
But we also cannot be radical and exclude the wise from the Book of Revelation. Saint Luke, who is considered among the four missionaries and was also the author of the Acts of the Apostles, was a physician, and Saint Paul, to whom Christianity owes its foundations, was a famous physician in law.
The Church is teeming with intellectuals, teachers, and sages, beginning with the priests, who mingle with the simple without any theoretical knowledge, because they all constitute one people, one body, and one faith. The problem is that some want to dismantle an ancient dogma just to satisfy their whims, to refute what they do not agree with, because even then they have "studied", they do not understand, they cannot admit their ignorance. . Saying "I don't know" is very difficult, so it is for a few wise men. It is for those who are wise and humble.
Pride, my friends, easily turns into intolerance and hatred, and from there, offending people, smashing images, vandalizing temples and shooting worshipers, is common. How many religions and creeds were created just to satisfy the pride of people who could not accept the fact that the truth was something so simple and that it was within the reach of people who thought they were inferior to them?
The miracle of faith
There is a story about a missionary sent to preach the inhabitants of a distant island. Despite the beauty of nature, the place was inhospitable, the accommodations uncomfortable, and the residents showed great difficulty in understanding the basics of religion. Gradually, things settled down, and after a few months, the whole community converted, learned to pray the Rosary and was baptized.
However, there was one man who was the stone in the dispatcher's shoes. Although he gladly accepted the words of Jesus and received baptism, he was not able to learn how to correctly make the sign of the cross and was not able to memorize the prayers Our Father and the Welcome Mary, which were often prayed by Catholics.
The dispatcher said mass daily, then taught catechism so that the caicara could prepare for the Eucharist. During the liturgy, everything was going well, but in the catechism, it was torment. The man always asked the same questions, and every day he asked the priest to teach him the Our Father and to welcome Mary again. At first, he answered patiently, but over time, it was causing him a great deal of discomfort. On the day he left, he was relieved and told the navigator about the case, saying he had never seen anyone more stubborn in his life.
They were already so far away that they could no longer see the small island, when they heard someone calling: "Dad, Dad, teach me again!" Amazed at how quickly the man rowed to reach them, the priest turned towards the voice, and to his astonishment, the simple-minded Kaikara was not rowing, but was walking on the water, while insisting: "Please, father, teach me, only once." At that moment, God, the navigator, and the ignorant man were delighted to witness another conversion…
Faith, study and simplicity
I was always a person of faith when I was young, and I even thought of pursuing a religious life, I did not do so for a very simple reason, being the youngest son and my brothers all married or about to marry, I did not want to be separated from my mother, who no longer had my father's company, and would be alone. I know that if I had followed this path, I would have given her the greatest joys, for though she was a very simple lady, who had not had the opportunity to study, she was a woman of great faith, but I preferred to give her my company. , I do not regret it.
I have studied and studies have not robbed me of my faith, however, I must admit that they hindered the way so much, for they made me ask questions and strain myself in search of satisfactory answers. Simple people need not waste time on this, not because the church is targeting them, but God himself.
All my life, I have lived with different kinds of people, ranging from those who believe to those who do not believe, through those who pretend to believe, especially when it brings them some advantage. However, two younger sisters have taught me about faith what life has not taught me. They are two very simple poor people who live in a remote and hard to reach place. The nearest church is about three miles from their home, but they go to mass every day on foot. They were so frightened, they had to run away from a mad dog and found snakes, but there was nothing that made them give up.
Once, at the festive mass, which took longer to finish, they tried to get a flight to leave, because they were afraid to walk alone late. Fortunately, there was still a couple in the church and he agreed to take them, as their house was in the direction they were going. It was really late and, in addition to being dangerous, it was rainy and cold. What a surprise to me, a few days later, when I learned that the couple who had taken them did not want to go on the dirt road, so as not to get dirty in the car, letting them walk more than two kilometers in the dark, in the cold and trampling in the mud with your tender feet.
On another occasion, rain caught them on the way and they had to go home, missing Mass. They wore new dresses and soaked. I felt a dagger in my soul when I heard this novel. But grieving, they resigned, went home and prayed another rosary (they had already prayed, a daily custom), and offered that sacrifice for a holy cause and for suffering souls.
These girls, because of their simplicity, wide manners and even for their physical formation, already suffered humiliation. It is possible that they will never fulfill their cherished dream of becoming religious, but I have no doubt that when they kneel in prayer, heaven opens only for the happiness that Jesus and Our Lady feel from listening to them closely. I'm not sure God has favorite people, but if he did, he would have given me the privilege of meeting two of them. And I confess that, despite my age, my studies, and all the baggage I carry, when I feel the weakness of my faith, it is my faith that has inspired me in the faith of these girls, and soon everything will return to its place, because faith is the virtue of the young, which we need to work hard to achieve.
By Afonso Pessoa