Young people report their experiences in the job market and guide professionals what they can do to overcome anxiety and fear and win a job
05/25/2022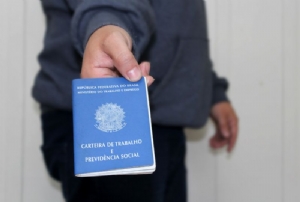 Shyness and insecurity are some of the obstacles to getting your first job
Coming out in search of your first job is not an easy task for most people. Among the challenges are crafting a good resume, choosing where to leave it, and dealing face-to-face with the recruiter. All of these experiences frighten many who want to enter the job market, as reported by young Robson Ricardo Bachesne, Alain Aparecida Oliveira de Andrade and Gabriel Gordam Vaz dos Santos.
"My experience with my first job interview was something new and challenging. At the time, I had no idea what I was going to say, because I had just finished high school, I had many desires and many things to overcome. The first conversation with the manager was a Feeling very scared, but during the conversation I calmed down and let it flow. In the end, it became an interesting conversation," recalls Robson, who is now 21 and works as a salesperson in a store.
Like him, Allen also had a hard time talking to the recruiter. "My first job interview was bad because it was across [Google] Meet, so I could not express myself well, because I was worried at the moment," says the 18-year-old student of the Tourism course at Unicentro, who is currently working as an intern at the same university.
The same concern was part of the life of Gabriel Gordam Vaz dos Santos, who, although he left several resumes around town, only got his first job with the help of his father, who was known to be a local supermarket manager. "My first job was in a supermarket, recommended by my father. During the interview, I was ashamed and very nervous, but I got the job and spent almost two months working there," recalls Gabriel, now 20 and looking for a job.
Psychologist and coordinator of the Irati Mental Health Clinic, Juliana Godoy Cosmos, explains that anxiety, nervousness and fear in the face of the new situation are common. "Some feelings and emotions are normal when we find ourselves in situations of stress or evaluation, among other things, suitable for these situations, a job interview, or even a first job. It is important to be able to recognize, understand and manage emotions so that they do not harm us, and they can They work in our favor, and lead to action. Certain feelings and emotions can become engines for achieving goals, "prescribes the psychiatrist.
She advises that the best way to deal with job interview stress is to get to know the company you want to work for first. "Insecurity often stems from a lack of knowledge of the process, lack of experience or even demands (external and/or internal). Juliana comments, the more knowledge of the process, the company, the vacancy, the more conditions to develop well.
Fabiana Teixeira, communication strategist and experienced journalist for the country's largest broadcasters, such as Record TV, TV Bandeirantes, Rede TV and TV Cultura, points out that in addition to knowing the company in which you are looking for a job, you need to prepare yourself to talk about himself and his qualities and capabilities. She highlights that a lack of preparation for a job interview, combined with the natural tension of the situation, makes the famous "white" happen. Especially when making scary phrases like "Tell me about yourself."
"If you're improvising and confronted with this broad question, you're likely to stutter, forget to mention important things, or even crash," he asserts. Fabiana explains that it's normal to have reactions like this when we're not ready, "but in an interview we should present ourselves as a solution and not a new problem."
A strategist's recommendation is to have a quick presentation on the tip of your tongue about your career path or your studies and goals – when you have no experience. For this, I emphasized that it is necessary to do the duty and prepare, write this summary and rehearse it as many times as necessary, until it becomes natural.
For Amilton Pires Ribas, Director of Human Resources at Grupo Ivasko, the candidate must be willing to overcome challenges such as shyness. He comments that the assessment criteria for young people who do not yet have experience are based on attitude and communication skills. "In the selection process, we evaluate communication, organization, teamwork, customer focus, positive behavior, and agility," he comments.
After getting a job, young recruiter is advised to seize the opportunity to prove their potential and grow professionally. Amilton cites upsurges at the company he works for. "Our focus is on customer service. Thus, it is very important that young people are open to benefiting from this first experience with dedication and engagement. At Grupo Ivasko we have many stories of people who started their first business and started their careers as managers," he says.
Required experiences
Many of the job opportunities offered by companies require experience, which makes life difficult for those looking for their first job. "In my view, the biggest difficulty lies in the experience that the job requires for someone who has just graduated from high school, without any experience. She goes to look for her first job and often does not get it, because many job vacancies require a lot of experience in the area," an assessment Aline Aparecida Oliveira de Andrade.
Internship is a good option for young people to start their career and gain experience. And this was exactly the path that Allen chose.
The partnership between companies and educational institutions to implement the trainings is mediated by the Parana Center for Integration of the School of Business (CIEE/PR).
Phase
The CIEE/PR Training Program requires that the interested party be 16 years of age or older and have attended high school, technical or higher education. In contrast, the CIEE Young Apprentice Program is aimed at young people between the ages of 14 and 24, who are either attending or have completed primary or secondary school.
Currently at CIEE there are nearly five thousand vacancies for internships throughout the state of Paraná. The fields with the largest number of vacancies are business administration, information technology, accounting sciences, pedagogy and marketing. To register, the interested party can register on the cieepr.org.br website.
"Here in Irati and the region, CIEE has been working for more than 22 years with the Internship Program, which is through Law 11,788, the Young Beginners Program, which is based on Law No. 10,097, as well as our social programs and free training, which are It is Youth in Action, Family in Action and several free training courses to help young people obtain training to enter the labor market," says CIEE Regional Office Coordinator, Cristina Malinowski do Nascimento.
According to her, in Irati and the region there are more than 700 young interns in companies and more than 150 young interns assisted by CIEE.
"We are very grateful and happy to see the young man's development, entry, and employment into the company, after this opportunity through CIEE to join, usually in his first job, often young man helping your family with income," Christina says.
dream of financial independence
According to the Brazilian Institute of Geography and Statistics (IBGE), the unemployment rate for young people aged 18-24 was 30.8% in the country in the fourth quarter of 2021. High school student Gabriel Gordam Vaz dos Santos is part of these stats and once again looking for an opportunity Formal work.
Returning to the job market represents, for Gabriel, the ability to realize the dream of achieving financial independence. "I will help pay the bills, I will help my family, and I will have my own money without having to depend too much on others. I will have my responsibilities, financial stability and can also book my reservation, in case my family needs it," he comments.
He lives with his parents and little brother and his biggest fear is getting a new job interview, getting hired and being able to help with house expenses. "I live with my dad, mum and 2-year-old brother. We have expenses like internet, electricity and water, which are bills I can't pay because I'm unemployed, and it gets very complicated. I feel like I'm unemployed because I can't help, because I really love helping them," Gabriel describes .
How to overcome fear and improve your performance in a job interview?
Psychologist Juliana Godoy Cosmos cites that fear is part of being human, but to overcome anxiety in a job interview, it is necessary to know and reveal one's qualities.
"We can't help but mention that every interview is unique, every human being is unique, in interviews potential is noticed, so fear or shyness can get in the way when interviewing you. As mentioned, it is important to know the vacancy and know yourself, Self-knowledge and personal appreciation are key. We all have flaws and traits, and it is important to enhance our qualities and be able to notice them."
In her view, emotional control during an interview is in focus and breathing.
"Anxiety before an interview can be controlled – given unsatisfactory anxiety – by planning how you will behave and behave at the interview, performing activities that help you relax, doing something you love. Breathing exercises and focusing on the main goal of being successful and getting a job," The psychiatrist directs.
I have no experience. What should I put on my CV?
Upon receiving a resume, the recruiter will first monitor the personal data, as if it were a business card, quickly and directly.
The CV should begin with your full address, marital status, age, phone numbers, and email.
Next, you should highlight career goals, mentioning the skills and what you want to learn or improve within the company.
Directly below, academic background can be highlighted in detail, such as professional or extracurricular courses. Even without professional experience, it will be obvious that the candidate is always looking to learn.
Finally, additional information, such as the availability of changes and other important information.
With the advent of technology, the way to send a resume has changed. Ates, which is delivered directly to the company, the candidate can currently send the document via e-mail or even through social networks.
Video Curriculum
An option offered by many companies that benefits even those without experience in the job market is a video resume. In Irati, the Ivasko Group is offering this alternative to candidates, according to a report by Human Resources Director Amilton Pires Ribas.
"On our portal, you have the option to record a video syllabus. If a young person does not have experience, they can use this tool to excel in the selection process by preparing a video syllabus," says Amilton.
Using the tool, it is possible to address both professional and personal aspects, in order to allow the employee to get to know the candidate in more detail, facilitating the process of getting a job.
Text: Lennon Diego Goron and Leticia Torres / Today Centro Sol
Photo: Lennon Diego Goron/Today Centro Sol