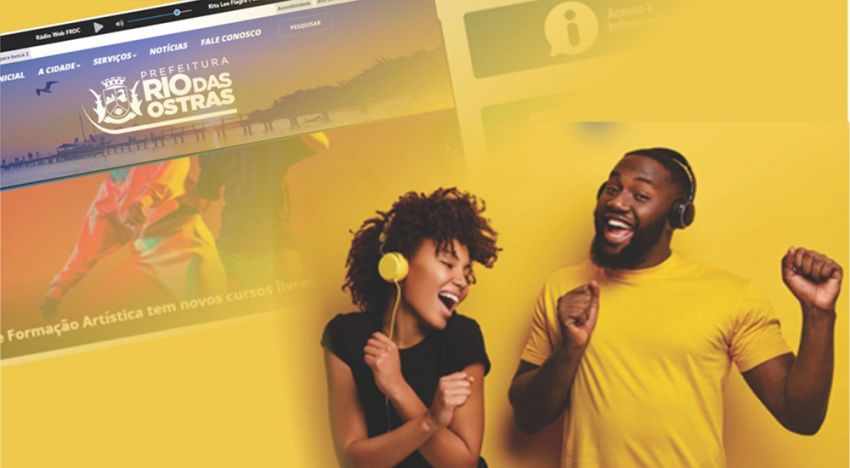 With just three months on the air, Rádio Web Froc continues to grow. In addition to the application being available for download on Google Play, Radio da Fundação de Cultura is now also available on the official website of the Municipality of Rio das Ostras (https://www.riodasostras.rj.gov.br/).
With its diverse programming, broadcast 24 hours a day, featuring programs produced by the Foundation's team, the radio's main objective is to honor and appreciate artists and musicians in the region who do not have enough space to display their compositions. In addition, it is another channel for the dissemination of works promoted by the institution itself and other artistic and cultural products.
According to Fundação Rio das Ostras de Cultura president, Christian Regis, the Rádio Web Froc is growing every day. "Radio is beyond our expectations because the number of listeners is increasing. We have only been on the air for three months and already have over seven thousand listeners. Since it is an institutional radio, we think it may take some time to start working. But thank God, we were wrong. Variety shows happen And the eclecticism, with local musicians, makes a difference.Through this partnership with City Hall Communication, I am sure we will increase the audience exponentially. Whoever will win this is Rio das Ostras and Cultura, which will gain wider publicity.
For the Counselor for Social Communication and Information Technology for the Municipality of Rio das Ostras, Cynthia Castro, who took office a month and a half ago, the interaction between the Foundation for Communication and Culture is very important. "We are one public administration. One of the work we are developing is the approach with Fundação de Cultura to expand the diffusion of products and services available to the population. Web Radio is another novelty found on the City Hall website, but there is still a lot to come," he said.
Software – In all, there are five programs produced by the communications team at Froc: "O Som da Cidade", "Toque Musical", "FrocCast" and now "Stay Connected…Stay Inside", as well as Soul da Casa". different of the day to give listeners the opportunity to choose the best time to listen to each of them.
"O Som da Cidade," for example, which targets musicians from the region specifically to showcase their original compositions, is broadcast daily at 10am, 4pm and 9pm. Fundação Rio das Ostras de Cultura is even inviting musicians from the region to send in their tracks to be part of the "Sound of the City" programme. Each week, the song schedule changes to give opportunities to new artists. Thirteen programs have already been produced with the participation of about 20 musicians and about 150 different compositions.
Those wishing to register must be over 18 years old and can submit as many materials as they wish. If the author is a minor, he must be duly represented by his legal guardian. Applications are open and submissions can be made until 11:59 PM on December 31, 2024 Brasilia time.
Applications must be submitted by email. radiowebfroc@gmail.com It must contain a copy of the ID card, the CPF, and a portfolio containing proof of at least one year of social/professional work in the artistic and cultural fields in the municipality of Rio das Ostras, or proof of residence, attesting to that period, in accordance with Law No. 2051 /2017. In addition, you must also attach the audio material in mp3 format, with recording quality, allowing for public broadcasting.
FrocCast, a cultural podcast that talks about the foundation's business and services and also matters related to culture in general, is broadcast at 9am, 3pm and 8pm.
With themes on specific musical rhythms, periods or trends, Toque Musical, broadcast at 11am, 5pm and 10pm, is the result of extensive research work that depicts history and curiosity about the chosen topic. Since its inception, programs on the history of the carnival, Tropicália, have already been held in honor of Chiquinha Gonzaga to talk about the importance of women in music and the Clube da Esquina movement. In June, the musical Toque will showcase a small part of the history of jazz and blues, on account of the 18th edition of the Rio das Ostras Jazz and Blues Festival.
A complete reproduction of the Projeto Soul da Casa for those who have not had the opportunity to attend the folk theater to enjoy the live performances. Broadcasts take place at two different times: 12:00 and 18:00.
New on the news account "Stay in touch…Stay inside", a news program containing articles on the public administration and its municipalities.