Among its announcements at Computex 2022, Nvidia revealed 4 reference servers for different workloads, including game streaming, digital twins, high performance computing (HPC) and artificial intelligence training. These systems are scheduled to be manufactured in 2023 by major partners and will use the processing power of the ARM Nvidia Grace CPU and the recently announced H100 "Hopper" GPU.
Nvidia announces Grace Chip reference servers
During the presentation, Nvidia highlighted how data centers have become "artificial intelligence factories", which are increasingly accelerated by the use of artificial intelligence. The company wants to ramp up this path and has announced four new reference servers with Nvidia Grace CPUs and Nvidia H100 GPUs: CGX for game streaming and computer graphics, OVX, for digital twins, and two versions of HGX, for HPC and AI training.
At this first moment, the focus is on HGX variants, which are designed for data-intensive processing. The first is HGX Grace, powered by Nvidia Grace Superchip – using 4th generation NVLink C2C, which links two chips into one with a bandwidth of 900 GB/s, and the component offers 144 ARMv9 cores and up to 1 TB of LPDDR5X RAM, with a display Bandwidth 1 terabyte / sec.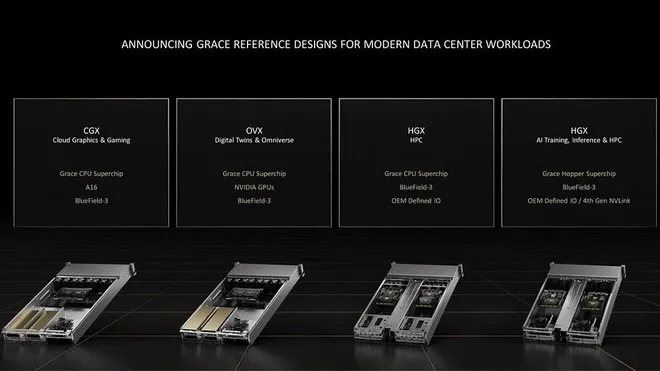 The connection to other racks and the network is carried out by the Bluefield-3 DPU, which has its own processor to speed up the transmission of information, while the connections are responsible for the server manufacturer. HGX Grace focuses on HPC workloads such as data analysis, simulation, and other science and engineering tasks.
The second model is the HGX Grace Hopper, equipped with the Nvidia Grace Hopper Superchip — still using NVLink C2C, a 72-core Grace CPU connected to the H100 "Hopper" GPU, and the company's latest solution will be the "world's fastest AI accelerator." Here, there's 512GB of LPDDR5X system RAM, along with 80GB of HBM3 RAM from the H100, to deliver a whopping 3.5TB/s of bandwidth.
As with HGX Grace, connectivity to other racks and the network is also the responsibility of the Bluefield-3. While its focus is on AI inference and training, the model also aims to serve HPC workloads.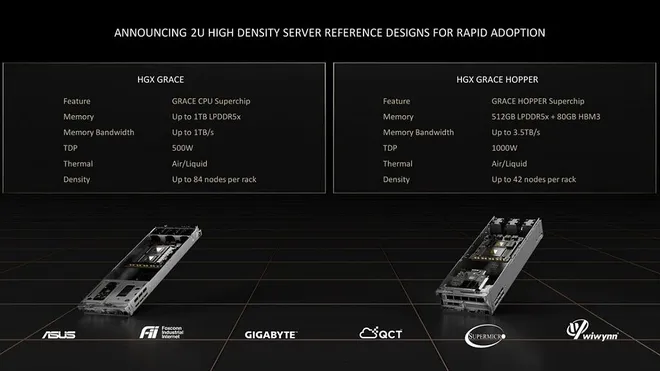 Little information was given about CGX and OVX: both will also use the Grace Superchip as the CPU, as well as Bluefield-3 for high data transmission, but while the former is based on an A16 GPU, a model based on the Ampere architecture for data centers dedicated to graphics processing, the second Will ship "Nvidia GPUs" unspecified. The four server models will be manufactured by partners such as ASUS, Foxconn, Gigabyte and Supermicro.
Nvidia has also confirmed some interesting details about its data center strategy: In addition to maintaining a dense two-year roadmap, with one year focusing on x86 servers and another on ARM solutions, the company has confirmed that it will adopt the UCIe standard. The open communication interface between Chiplets, developed by a group of giants such as AMD and Intel, allows components from different manufacturers to talk to each other on the same substrate.
Liquid-cooled A100 and H100 GPUs revealed
Still server news, the giant has cemented its commitment to computing acceleration without neglecting sustainability by announcing its liquid-cooled A100 and H100 PCIe models. These solutions will provide more performance than conventional air-cooled PCIe variants, while also reducing power consumption as there will be less effort and cost to cool the cards.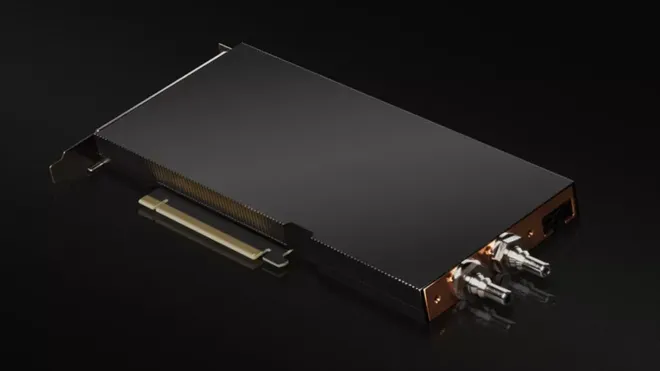 In Nvidia's tests, the liquid-cooled A100 was able to handle the same workloads as the conventional version while consuming 30% less power. The company estimates that using these models to replace CPUs in HPC servers and train AI will result in a significant savings of 11 trillion watt-hours.
The new Grace and Grace Hopper chip reference servers debuted in the first quarter of 2023, along with a liquid-cooled H100 GPU. The new liquid-cooled A100 arrives earlier, in the third quarter of 2022, between July and September.
Source: Nvidia, XDA Developers, TechRadar