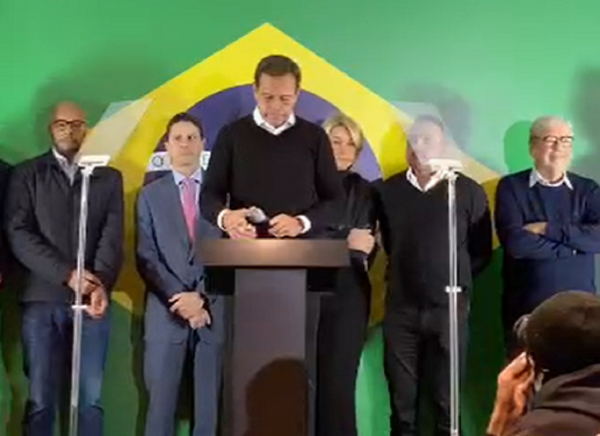 João Doria (PSDB), the former governor of Sao Paulo, withdrew his pre-candidacy for the presidency on Monday (23). The announcement, made in a serious tone, in the rented house of his campaign committee, in Jardins, contrasts with the position of Doria and his allies in recent days, who deny the possibility of opening the way for the Emedipista. Simone Tebet (MDB) should be a third-way candidate. Check out the entire speech.
in case of dispute
Read Derya's full speech on the withdrawal
This is an important statement. Today is the day of answers, but it is also the day of questions. People always ask me why did I leave a comfortable life for my successful companies to get into politics?
I am the son of a politician who was deposed by the military coup of 64. My father, like me, began his life poor, but fought, worked and made a comfortable life, the owner of one of the largest advertising agencies in Brazil. Until the day he decided to fight for a better Brazil, inspired by Franco Montoro.
In it, there was an urgent need to serve the Brazilian people, to fight inequality and social injustice. My father Doria was elected a federal deputy, and in April 1964, he was impeached by a military coup. He lost his political rights and all his possessions and was forced to live in exile. Two of these ten years of exile, my brother Raul and my mother, Maria Silvia, were at my father's side.
Inspired by my father's ideals and courage, and also motivated by chance by Franco Montoro, I collaborated with public life from an early age. I was with Mario Covas, president of Polystor and Minister of Tourism of São Paulo. Because of the successful management, I was invited to head the Embratur, which was symbolically created by a bill authored by my father. As a campaigner and activist, I, at the request of Franco Montoro, organized the historic Diritas Já March, in Praca da Se, on January 25, 1984, here in São Paulo.
With perseverance, dedication and hard work, I have been able to build a solid career in the private sector and have created a successful business group.
2015 saw the height of a brutal recession that wiped out millions of jobs, guillotine incomes, soared inflation and shattered dreams. Nothing is very different from what we face today. Dissatisfied, he follows the misguided economic measures of an incompetent government and embezzlement of public money.
2016 In the footsteps of my father, I decided to run for election.
This is where my story begins, in my party.
The PSD's Public Security Directorate contested 3 primaries: for mayor, governor, and president. The only three primaries in the party's history. I won the primaries in 2016. Shortly after, I won the mayoral election for the largest city in the country, in the first round. An unprecedented event in the political history of São Paulo.
I keep the best memories in town hall. And my friend Bruno Covas.
I am proud to clear the exam waiting list in health centers, with the unprecedented Corujão da Saúde. We serve displaced populations through shelters, and restore squares, roads and streets. We encourage greater inclusion of disadvantaged children in resizing day care centers and municipal schools. We launched franchise programs for Parque do Ibirapuera, Pacaembú and Anhembí, among other significant achievements of the city.
In 2018, she again ran and won the PSDB primaries to elect Sao Paulo state governor. Again, I won the primaries and I won the elections, being elected governor of São Paulo.
I am proud that I have implemented transformational management in the state, even by opponents. Faced with the historical challenge of the epidemic, I personally committed myself to bringing 124 million doses of the vaccine against COVID-19 to Brazil. I tried to do the right thing. We save lives and the economy. Under this pandemic, São Paulo has grown 5 times more than Brazil, creating a third of all new jobs in the country. Across the national territory, the vaccine was a sign of hope, saving millions of Brazilians. We won with science, hate speech, fake news, and denial.
Just as, when I left City Hall, when I left the leadership of the city in the hands of the late Bruno Covas, this time too, I left the government of São Paulo in good hands. Rodrigo Garcia is doing a job he started with a superstar team, and that will surely give him victory in this year's election. Rodrigo will be re-elected, with great justice, as Governor of São Paulo.
In December last year, I again ran in the party primaries to be a candidate for President of the Republic. And again I won.
Here is my gratitude to the Brazilians from the city of São Paulo who gave me over 3 million votes in the city council, for nearly 11 million votes for the government of São Paulo. And to the more than 17,000 fighters of the PSDB, who chose me as their candidate for the post of President of Brazil.
I also thank the more than six million Brazilians who have already expressed in public opinion polls their intention to vote for my name as President, even before the start of the election campaign.
Brazil needs an alternative to offer to voters who do not want to be radicalised. Who does not want to be involved in corruption scandals. Not even the one who couldn't save lives, couldn't save the economy and this shames our country all over the world.
For this task, I made my name available for the party.
Today, on May 23, I calmly understand that I am not a PSDB Summit choice. I accept this fact with my head held high. I am a man who respects common sense, dialogue and balance. I have always sought and will continue to seek consensus, even if it is against my personal will. The PSDC will know how to make the best decision in determining its location for this year's elections.
He withdrew from the dispute with a wounded heart, but with a light spirit. With an unmistakable sense of duty accomplished and task well done. With good management and no corruption.
I leave with gratitude and the certainty that everything I did was for the benefit of a collective model, for the benefit of Paulistanos, Paulistas and the Brazilians.
I leave when I entered the world of politics: full of ideals, with a soul full of hope and a beating heart, confident in the strength of the Brazilian people who believe in life and in God.
I apologize for my mistakes. If I've gotten past it, it's because I wanted to get it right. If you exaggerate, it is because of the rush to do it to the fullest. If you speed up it is because of the urgency that public procedures require.
The successes were the result of teamwork, daring and courage, a goal I had always pursued. Always do well what needs to be done.
Respect and work. Make the impossible possible. This is my motto. I take it wherever I go.
I thank my fierce team, the party members who always defended me, those who fought on my side, those who were loyal and defended the party's internal democracy. And they stand up, as I do, for freedom and equality in Brazil.
I thank my collaborators who have been with me in the city council and in the state government, who have been committed to the historic results we have achieved.
I thank the PSD fighters, the exceptional warriors who never left me.
I thank God for the character he has always given me, his ability to work, and the sense of justice and peace in his heart.
I also thank my family, Pia, my dear children Johnny, Philippe and Carol, my dear brother Raul and his lovely family. I also thank all the true friends who have always supported me in all my decisions.
Finally, I mention here the beautiful poem attributed to Cora Coralina: "There is more ground in my eyes than the fatigue of my legs, and more hope in my steps than sorrow in my shoulder. There is more path in my heart than fear in my head."
I will continue as a quiet observer of my country. Always ready to fight the war I am called to. In public life or in private life.
Thank you very much and see you soon.
If you notice any incorrect information in our content, click the button and let us know, so we can correct it as soon as possible.