Among the many launches announced in recent days, Acer has also updated its Vero range of devices aimed at a more sustainable world. The brand has presented many items with environmentally correct materials, such as laptops, monitors, a projector, an all-in-one computer, mouse and keyboard.
Aspire Vero laptop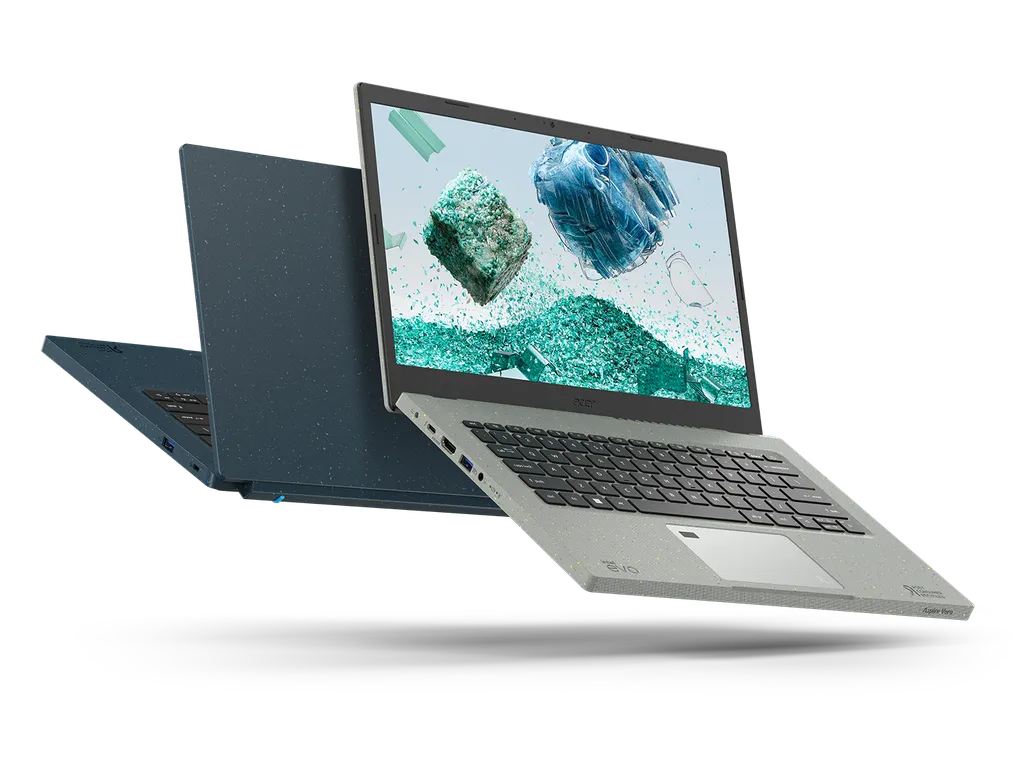 The new Aspire Vero laptops get 12th generation Intel Core processors, among other minor differences. The 14-inch model comes in the new Mariana Blue, while the 16-inch comes in Starry Black — both products feature Full HD panels, and are also marketed in Cobblestone Gray.
To ensure a sustainable product footprint, both portable devices are made from 30% post-consumer recycled (PCR) plastic, and OceanGlass trackpads contain plastic waste taken from the ocean. With this, Acer claims to reduce carbon emissions by about 21% in the production of the chassis of Aspire Vero products.
In addition, the edges of the displays bring 30% PCR, which is up to 50% in the case of keyboard parts. Notebook computer repairs and upgrades are made easy with a build that can be taken apart using the most common tools.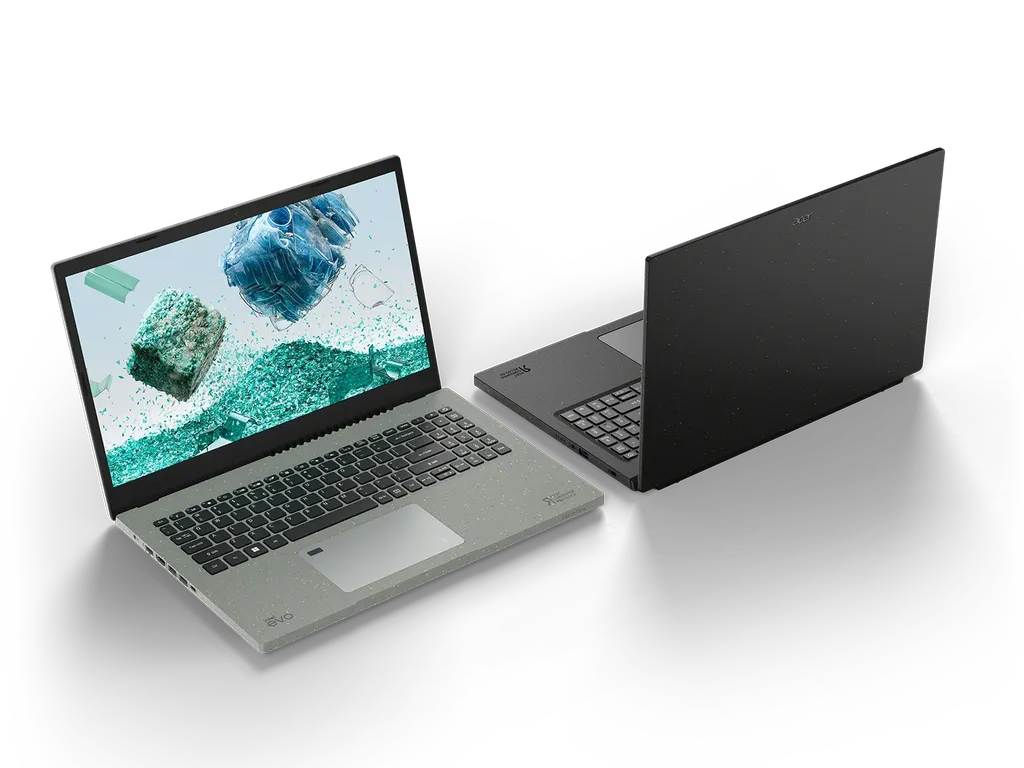 Even product packaging is made with similar goals, as the box is made from 85% recycled paper and can be used as a backing for surfaces afterwards. There's also a protective case made from 100% industrially recycled (PIR) plastic, as well as a PIR protector installed between the keyboard and the screen.
With integrated Intel Iris Xe graphics, both mobile devices meet the requirements of the Intel vPro platform, and pass tests for responsiveness, battery life, and fast charging.
Wired connectivity options on the Aspire Vero include two USB-A 3.2 Gen1 ports, as well as Thunderbolt 4, HDMI, and a 3.5mm headphone jack. They even have a Full HD front camera for video calls and Wi-Fi 6 support.
All in one Veriton Vero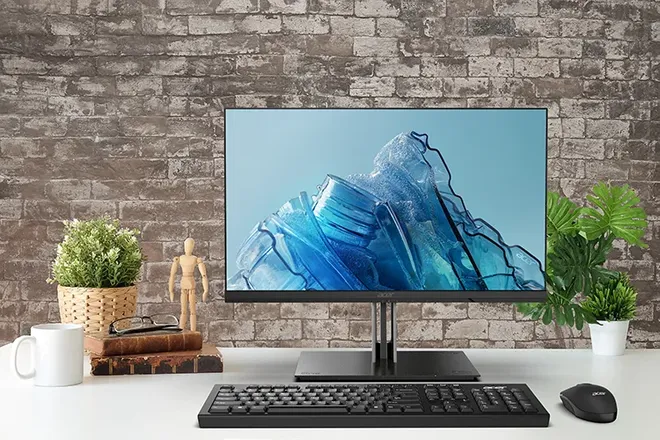 The Vero line is also represented by the Veriton All-In-One (AIO) desktop, which features a 24-inch HD IPS LCD display. Its design has 88% of the screen compared to the entire front panel, while the back has VESA brackets to place it against the walls.
The performance stack should be enough for various productive tasks, as maximum configurations bring a 12th Gen Intel Core i9 processor, 64GB of DDR4 RAM and 2TB of storage via an M.2 SSD — the product graphics card is an Nvidia GeForce MX550.
The AIO chassis also consists of 30% PCR, a material that still appears on keyboard and mouse. Other features are similar as well, such as easy repair with simple tools, and the box is made of 100% recyclable material.
The product also focuses on business environments, and also provides several tools that focus on data security. There's infrared face unlock support with a Windows Hello and TPM 2.0 sensor, and a Tobii Aware sensor that locks the system if an unknown user is detected—plus, the 5-megapixel camera features a physical cover for added privacy.
Desktop connections include USB-C 3.2 up to 20Gbps, USB-A, 3.5mm and more. In addition, the screen features BlueLightShield protection that reduces blue light emission by up to 30%, preventing damage to human vision when exposed for long periods of time.
Vero . screens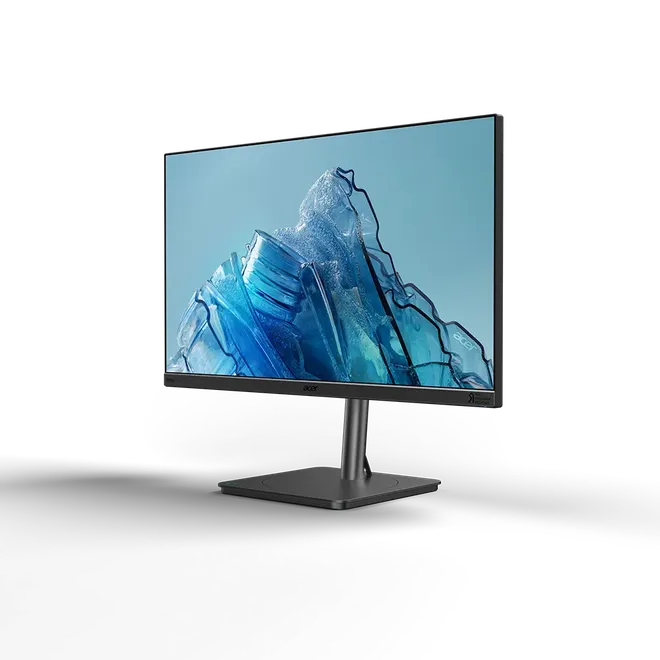 The new screens of the line come in dimensions of 23.8 and 27 inches, with a resolution of Full HD and a sustainable construction: according to the brand, 85% of the structure is in PCR, 5% is made of plastic taken from the ocean .
The larger model also features high color accuracy with Delta E < 1, as well as TUV Rheiland EyeSafe certification to reduce levels of blue light emitted. With a USB-C port, the display can still supply up to 90W of power to other devices.
Through the same connection, the 27-inch board can act as a hub that integrates multiple peripherals. A KVM switch is for switching between multiple computers, while using the same combination of keyboard and mouse, for example.
Vero PD2325W Projector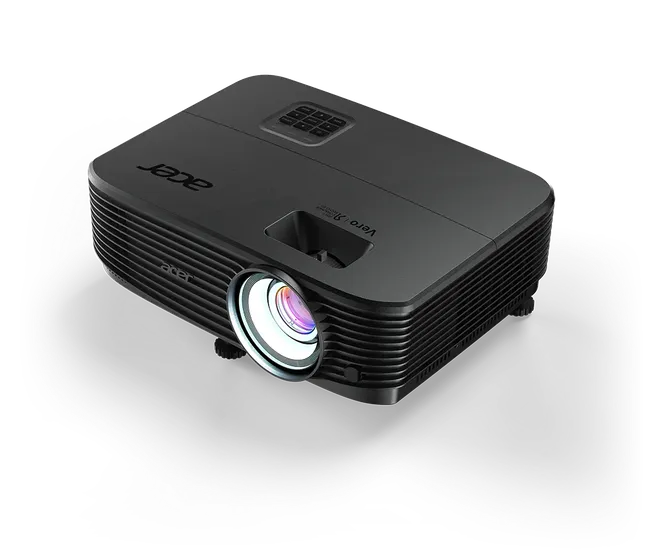 Acer's new projector focuses on energy efficiency, and thus on reducing environmental impact. According to information revealed by the brand, their operation can be up to 50% more economical than conventional projectors – in addition, their construction contains 50% PCR and there is 85% recycled paper in the package.
The product uses an LED light source with a maximum brightness of 2,200 lumens, as well as supporting a resolution of 1200 x 800 and a contrast ratio of 2,000,000: 1. It still achieves 125% color gamut REC 709, which is about 1.5 times greater performance than its counterparts In category, according to brand.
The BlueLightShield blue light filter protects users' vision, while the internal 5-watt amplifier eliminates the need for external audio devices. There is also 24/7 viewing support at museums, stores, and other public places.
Ferro keyboard and mouse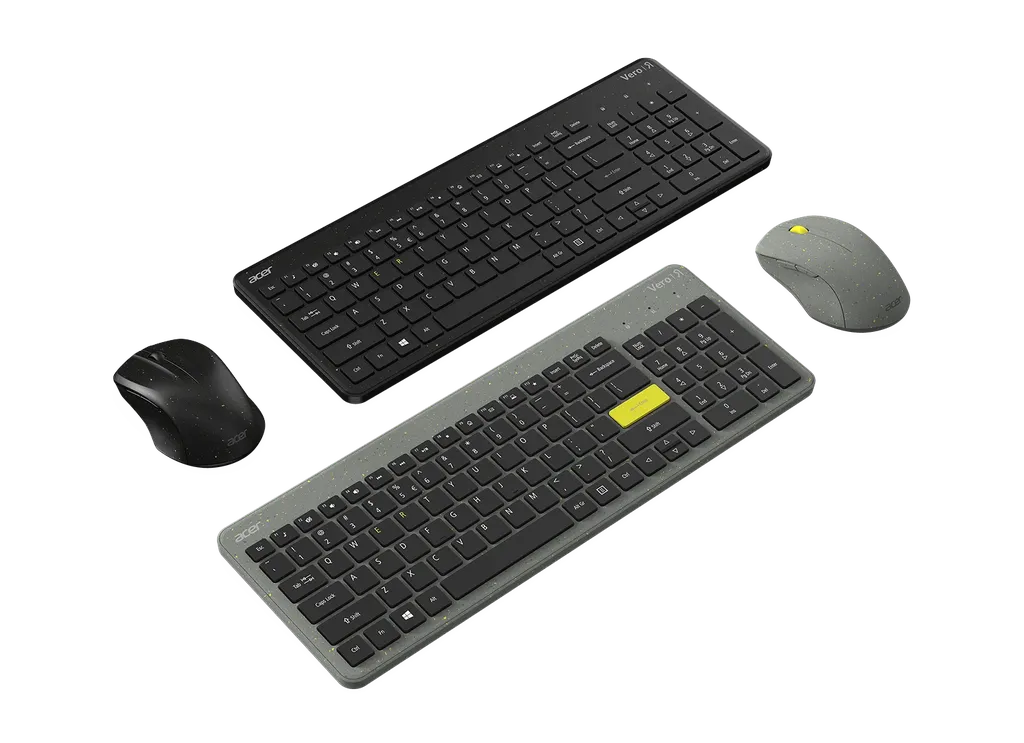 For the first time, the Vero lineup also includes peripherals. The mouse and keyboard feature a top construction with 65% PCR, while the bottom section features 30% ocean plastic.
A long shelf life is crucial to maintaining a sustainable product view, which is why the mouse comes with an 18-month battery life. Meanwhile, the keyboard is guaranteed for at least five million clicks.
Acer has also ensured that both products operate very quietly, which could be useful in public places, or while listening to music and other content, for example. It will be available in a more discreet version in black, or even in gray with yellow accents.
Price and availability
All products will be available from the next few months in many countries. The price and forecast for each item can be seen below:
Aspire Vero 14-inch laptop: Available as of August for €899 (about R$4605 in direct transfer)
Aspire Vero 15-inch Notebook: Available in August for €999 (approx. R$5,117)
Veriton Vero All-in-One: Available from July for €919 (approx R$4707)
Vero CB273 Monitor (27″): Available in the third quarter for 399 euros (approximately 2043 R$)
Vero B247Y G Monitor (23.8″): Available in the third quarter for €269 (approx. R$1378)
Vero PD2325W Projector: Available in Q3 for €549 (approx. R$2812)
Vero keyboard: Available from November for €69 (approximately R$353)
Mouse Vero: Available from November for €25 (about R$128)
Source: Acer