The new information was sent by another former employee of Memória, Domingos Luiz Orlando, known as Mingo, who reports:
1 – The photo, published in Rio Grande da Serra Week 2022, is reversed.
2- The author of the picture is Louise Orlando's parents.
3 – The boy at the end of the boat is me.
4 – The boys in the center of the picture are my cousins.
5 – The stone pillars were built by my uncle Natal Orlando and Antonio "Portugues", who was propping me up at the end of the boat.
religious party
The photo was taken between 1942 and 1943, during World War II. Domingos Orlando was between 4 and 5 years old and the city was having another São Sebastião feast procession.
Domingos was born in Estação Rio Grande on August 8, 1938, in Rua Rabelo Lobo, No. 8.
The mentioned cousins ​​are Flavio Pandolfi and Joao Domingos Orlando.
Domingos is the grandson of Domenico Orlando and Julia Orlando, brother of Midi and Marley.
family roots
Domingos holds Domenico Orlando's IX passport, showing the date September 12, 1901 with a Buenos Aires registry.
"We don't know if the date corresponds to his arrival in Argentina or the record of his arrival in Brazil," Domingos says. "We know he was Italian, he first went to Argentina, he stayed there for a while and then he came to Brazil."
Domenico Orlando's wife, Julia, arrived in Brazil on July 5, 1905. In 1909, Domenico returned to Italy to take his children Luis (Mingo's father) and Natal. The other children were born in Brazil.
the bridge
The work is built in wood, supported by stone pillars. It held until the turn of the fifties and sixties of the last century, when it was replaced by a concrete bridge.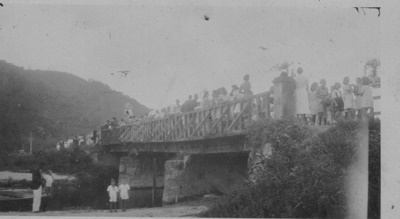 Image credit 1 – Photo: Luiz Orlando; The group: Domingos Luis Orlando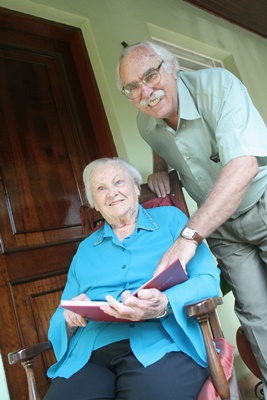 Image credit 2 – Fernando Dantas / Database (23-7-2008)
proces. Old Rio Grande Bridge. At the end of the boat, little Mingo, the same Mingo next to his mother, Mrs. Dirce Chioatto Orlando, 65 years later…
diaries for half a century
Wednesday May 17, 1972 – Year 14 Edition 1844
Saint Andrew – Jardim Alvorada, near Villa Linda, a slum, inhabited by workers who bought the plot of land at sacrifice and, little by little, built their homes.
All the residents had hoped that, in a short time, the streets of the neighborhood would see the minimum improvements needed.
Time passed, the Jardim Alvorada grew, and infrastructure works were not carried out.
Construction – Caminho do Mar or Estrada Velha de Santos, as SP-148 is called, is undergoing a complete restoration and resurgence in the Planalto extension.
diary 30 years ago
Sunday 17 May 1992 – Year 34, Issue 8075
the address – The country has reached rock bottom, says Marsilio Marques Moreira. The Minister of Economy expects to resume growth.
club Yesterday (16-5-1992) EC Santo André inaugurated the first phase of the Poliesportivo in Parque Jaçatuba.
On May 17th…
1642 Silver and other metals of similar values ​​are prohibited from leaving Vila de São Paulo. There was a shortage of coins. Exchanges, sales and purchases were made in kind: flour, bacon, cotton, wax, grain.
After a few days, the municipal attorney asked the mayor (mayor) to go and find strangers who, from Villa de São Paulo, were taking coins to Villa de Santos, "this city was left with nothing".
The coin was a gem.
Source: "Ephemerides", from O Estado de S. Paulo.
1842 The liberal revolution began in São Paulo.
1902 – From the Estadão correspondent in Estação Rio Grande (da Serra) – Mr. Adolpho Edimann, founded here with a well-established food establishment.
1932 The date for the election of the Constituent Assembly was set: May 3, 1933.
"We would all be happy if (date) was not so far away. Unfortunately Mr. Estadão commented in the editorial of the President of the Republic (Getúlio Vargas) that he needed another year of dictatorship.
1957 A large number of taxpayers went to the treasury of the municipality of Santo André to salute their obligations to the municipality, benefiting from a 40% discount on fees and taxes, in addition to a 10% discount for those who pay in May. .
With a discount approved by Mayor Pedro del Antonia, the protest movement led by the Homeowners Association was defeated.
Today's Mass
Julia Salzano
Restituta de Teneiza
Pascual Bailon
today
world hypertension day
World Telecommunication Day
World Internet Day, established in 2015
National Day Against Homophobia
Brazilian municipalities
Today is Peguaçu and Donna Emma's birthday in Santa Catarina. Carvalhopolis in Minas Gerais; Flores da Cunha and Santa Maria, in Rio Grande do Sul; Nossa Senhora do Livramento, in Mato Grosso; and Vermond in Parana.
death cases
Saint Andrew
Elisabetta Mraz, 95. She was born in São Caetano. He lived in Villa Guimar in Santo André. Day 13. Cemetery of Cristo Redentor, Villa Perez.
Dirs Pasqualini Fresenet, 93 years old, was born in Piracicaba (São Paulo). He lived in the Camilopolis neighborhood of Santo André. retired. Day 14. Jardim Santo Andre Memorial.
Joao Pavani, 92. Born in Salto Grande (São Paulo). He lived in Parque Oratorio, in Santo André. Day 12: Cemetery of Nossa Senhora do Carmo, Corosa.
Leonda Cottarelli Lopez, 83, was born in Santo André. He lived in the Silveira neighborhood in Santo André. Day 13. Jardim Santo Andre Memorial.
St. Bernard
Natalia Mar Begas, 95. She was born in Tapapua (São Paulo). He lived in the Giordanopolis neighborhood of São Bernardo. Day 9. Polisia Cemetery.
Alice Torres Xavier de Oliveira, 93 years old, was born in Vicosa (Alagoas). He lived in the Verazopolis neighborhood of São Bernardo. Day 11. Jardim da Colina.
Sao Caetano
Maria Wollner, 99 years old. I was born in Romania. He lived in the Osvaldo Cruz neighborhood of São Caetano. Day 10: São Caetano Cemetery in Villa Paola.
Crown
Margarida Vitoria Bixinho, 90 years old. I was born in Abyte (Minas Gerais). He lived in Villa Guacuri, in São Paulo, the capital. Day 12. Valley of Peace.
Mawa
Antonio Mauricio, 70 years old. He was born in São Paulo, the capital. He lived in the Jardim Miranda D'Aviz, in Mauá. Thirteenth day in Santo André. Hill Garden.
Ribeirao Peres
Maria Nogueira de Oliveira, 93, was born in Aco (Rio Grande do Norte). He lived in Maria Maddalena Park, in Susano (São Paulo). The ninth day in Ribeirão Peres. Cemetery of São Sebastião Ravo in Susano.
Rio Grande da Serra
Mario Pereira do Nascimento, 71 years old, was born in Recife (Pernambuco). He lived in Villa Lavinia, in the Rio Grande da Serra. Eleventh day in the wreath. San Sebastian Cemetery.