By Adriana Lima, Ermelo Droz, Renata Strabzon and Daniel Farias
You only need to hear different little noises at night, maybe a chronic cough, and you run to the bedroom to see if everything is OK. Check for fever, give a bosom. A mother is a mother, and she always knows how to solve these healthy things. But make no mistake: the decoration of that room does not include a bed, but a spacious bed and, in many cases, air conditioning. And on the side is a piece of furniture with a water bottle and a list of medicines that are popular with the elderly so that they do not get lost in the table. And if everything is fine, it's time for bed because tomorrow you have to get up early. At 7:30 a.m. Physiotherapy was scheduled.
But before it is time to take her father to the doctor, she must prepare breakfast, sort out the appropriate clothes for the important meeting at work, check the duties of the two children, and remind her husband to take the comforters to the laundry.
And if elderly parents do not live in the same house, the alarm should go off at that time as well. There are mothers who call early and don't get out of bed until they make sure their elderly mother is up well, too.
On this Mother's Day, it is necessary to emphasize the presence of the mothers of their elderly fathers. Like all mothers, they live in a stressful routine. The geriatrician at Unimed Vale do Sinos Paulo Roberto Luchesi Soares highlights that thinking about the role of this mother is also a great and necessary appreciation.
"In maturity, many care needs begin to emerge sooner or later, and get worse, for example, in bedridden patients. Recognize these changes as difficulty in safely and satisfactorily performing activities of daily living, use of medications, movement, memory or Difficulties with vision or hearing, the risk of falling, etc., is essential. And in our society, we note that in most families, the responsibility for care often ends with the female figure. We have many examples in the family or in our social circle ", emphasizes.
Silence and affection
If raising young children includes important instructions that lead to growth, in the routine with the elderly, the challenge is not to educate, but to welcome. The elderly father had already learned to walk, and needed to trust his outstretched hand to help him in his steps now a little slower. It's a daily mix between maintaining independence and taking care of whatever it takes.
Lucchesi remembers that both sides are still learning. And for mothers who take care of the elderly, the battle is often very silent. "Here it is not about blaming anyone or demonizing the male figure, because everyone can have their problems, but about checking the facts so that they can be brought up and discussed in the community, whether in support groups, among family members, in individual care or in general These dimensions come together with the goal of protecting, supporting and welcoming these women."
Grandma Kandoka's "gurus"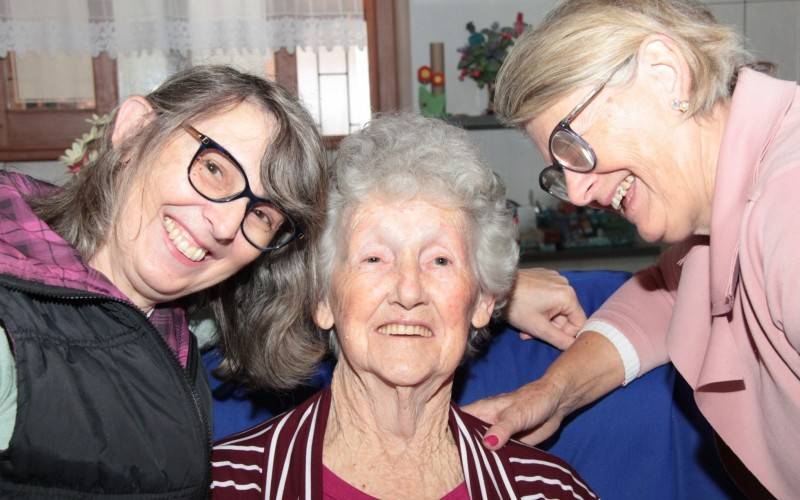 The laughter that echoes in the kitchen shouts: This is a home for happy people. This was not always the case. They love that life is an eternal family lunch on Sunday. But the time beats strokes, too. A nap at the wheel. collision. A dead father on the asphalt. Four orphans and a widow at home. In one of these daily tragedies, 84-year-old Erasy Joanna Basuti discovers all the courage a mother shows when it comes to protecting her offspring. The children were between 7 and 17 years old when their father Euclid died in an accident, more than 40 years ago.
Irace gave everything he had to his children. Love, role models and food. With four children, three grandchildren and one great-grandson, the octogenarian managed to keep the family running. Today, he lives in a house on the land between two children. The other two live in the same neighborhood and are always close by. But daughters Vera, 64, and Marcia, 57, have become a kind of "guardian" for their mother. Vera takes on the role of private chauffeur. "I take her anywhere she wants to go. For medical appointments, to see the stores, to walk around, to visit family members, to the gym, for tests. I'm her own Uber." Marcia, on the other hand, because she lives in the same land as Donna Irace, organizes meals and is always by her side on any call. "In the morning, she likes to make her own breakfast, but it's up to me for lunch and afternoon coffee and dinner," he sums up.
The sisters say the division of tasks does not affect the family's routine, strengthening the bonds between them. Not even in the family's WhatsApp group, called Grandma Candoca, the nickname Donna Irace among the Basottis family. Since she doesn't have a smartphone, everyone's mom gives her orders. "I don't use it, but I decide where to lunch and let them put it there in the group."
The link that beats Alzheimer's disease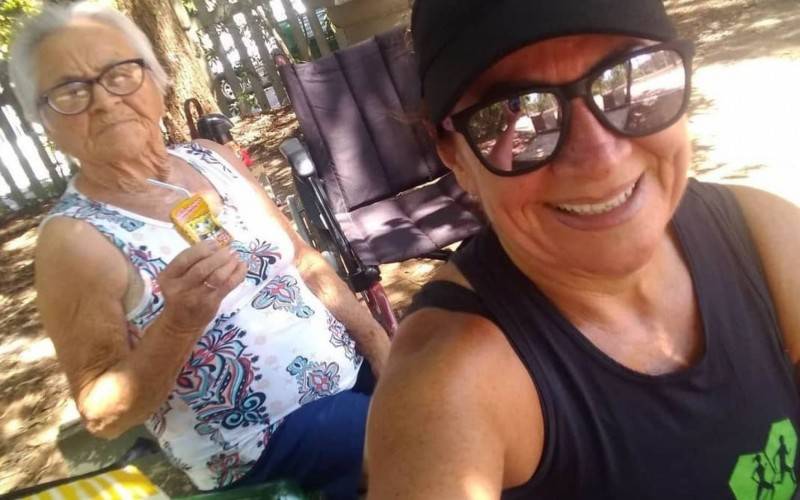 inseparable. This is the hairdresser Rosa Maria da Silva Rinaldo, 56, and her mother, Maria de Oliveira Silva, 91. Their relationship and love for each other are so strong that they overcame the most difficult barriers imposed by Alzheimer's disease, a disease that afflicts its owner. Mary two years ago. Donna Maria, a mother of seven children, one of whom is now deceased, is a role model for the family.
Having been widowed since the age of 42, she struggled hard to ensure that nothing was lost in the home. "She has always been a great mother, and a true warrior. Her mother has always overcome everything with joy and in a very emotional way."
The youngest daughter Rosa has always had in her mother a safe haven and friend for all hours and all situations. "She is my wonderful companion. We are always together. Even with all the difficulties, mommy was always by my side. Even in a wheelchair after she had a stroke, she accompanied me when I went for a run, she always made sure that we were together."
Rosa always lived in the back of her mother's house, in Sapucaia do Sul, and ended up moving into the same house when the first signs of Alzheimer's appeared. Since November 2021, he has been living in a house.
Even away, the mother and daughter maintain the partnership and union. "I visit her, take her for a walk," he says. "She is so dear to the house she lives in. She is the child of the house."
The mother of the daughter and responsible for the parents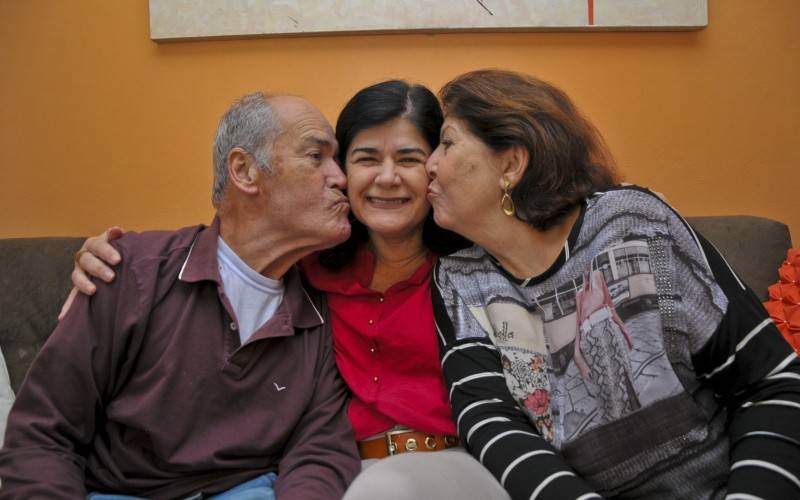 Cristina Mendonca da Silva, Director and Business Consultant from Canoas, is the mother of a 9-year-old girl. In addition to this, she is also one of the many mothers who also take on the role of assistance in taking care of their elderly parents.
The businessman's father was diagnosed with Parkinson's disease five years ago. Since then, she has been the couple's official chauffeur. "Since my brother lives on the coast, the care of father and mother is more with me," he explains.
"I became a driver and escort to go to the doctors and everything. For me, even with the responsibility and some difficulties due to the father's illness, it was very good. I feel more comfortable knowing that I can support them and that I can keep my routine. We have always had so much love, affection and care for each other. Some and I find it a pleasure to be able to take care of them."
Paulo Renato Arduin da Silva, 74, and his wife, Marly Mendonca da Silva, 73, decided to sell the house in which they lived for 55 years, since the beginning of their marriage, in the neighborhood of Rio Branco, in order to be closer to the daughter. "My husband and I have already chosen to leave Kanwas Center and move to the Fatima neighborhood to be closer to them. Now, we have come to an agreement that it will be easier for them to move to the same apartment complex as us," Christina says.
The entrepreneur highlights that parents continue to maintain financial independence and normal activities. "My mother is a psychologist, and even retired, continues to help students. In the new house, there is also a space where you will serve."
The decision is not only for safety, but also to make life easier for the family. "The yard where my parents lived is big, it has a pool, and there is a lot to maintain. We also ended up buying a bigger car. He stresses that dad has a scooter that makes it easier to move around, so we are adapting little by little."
Granddaughter that also comes in profit. "She already has her room in her grandparents' house. If you need to, just cross the street."
Donna Yvonne loves to enjoy life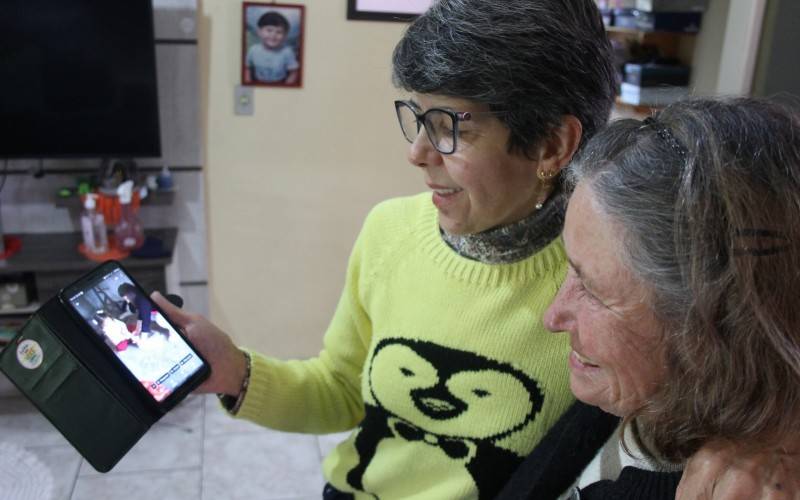 Yvonne Winter da Rocha, 79, from a time when life was working. I got married early. At the age of nineteen, he already had a small child and enormous challenges. The life that began in Gravataí was planted in the countryside of Nouveau Hamburg. "We used to live in a one-bedroom house," Ms. Yvonne recalls. "Everyone was crammed together."
But retirement at The Encounter took some time. Donna Yvonne not only raised three children, but also raised seven more grandchildren. People were having kids, they had to work and I was staying with them." Her daughter, Sylvain, 53, benefited from Grandma Yvonne's "daycare center." Her granddaughter Camilla, 33, was one of the children fostered by farming.
Today, Sylvain is a mixture of gratitude and pride in his mother. "You taught us to fight to conquer things." Lesson learned correctly. From a daily worker, Sylvan became the owner of her own business. So don't spoil your granddaughter Lara, 5, these days. "Whenever I can, go out with my mom." Coast, Serra, Thermal Waters of Marcelino Ramos. The list of destinations is only growing. The retired farmer admits: "On the twenty-second we'll go to Morrow Reuters. I love to take a walk."
Did you like this article? Share!