More and more adults are coming out as LGBTQ+ after committing to heterosexual marriage and having children. A 2022 Gallup poll found that the percentage of US adults who identify as anything other than straight has doubled in the past 10 years and predicts that the percentage who identify themselves as LGBTQ+ will exceed 10% in the near future.
In light of the big numbers, TODAY Parents has been collecting reports of couples who successfully married after one spouse embraced their real sex life, in a project called The New American Family. Check out some of them!
Jessica Fro, 37, met her ex-husband, Steve Stoddard, 39, in February 2004. The wedding took place at the end of the year. But Steve said there was always something "different" about him, since he was 11. "But the way I was raised, it wasn't just a choice to be gay," he says.
Jessica and Steve both grew up in the Mormon Church knowing that being LGBTQ+ is a mistake. This teaching was deeply ingrained in Steve, and even when — six months into their marriage — Jessica found a bunch of gay pornography on his computer and asked him about his sexuality, he couldn't utter the words out loud. "He was still very much in denial," his wife recalls, in an interview with TODAY. "And you can't tell me, at that moment, that he was gay," he says.
"I didn't say that to myself," Steve added. "I got kind of numb," he adds. After a year of counseling, Steve dealt with his sexuality, but had never dated a man, wanting to stay in his marriage and "stay true to his faith." Thus, the couple remained married and, years later, had a daughter. Jessica explained, "I felt the same way Steve did — that's our way, we've committed to each other, we're in this marriage, we're going to make the most of it."
"However, we were happy. We had fun together; we enjoyed being together; we were good at communicating and allowing each other this space to process things. I knew Steve needed time to understand that side of himself, and I wasn't in a hurry to pressure him to deal with the command. When he was ready, I thought I would," Jess says. "We were part of this religion that taught that even if you were gay or even if you were attracted to the same sex, it was something you didn't have to do. You can still be in a happy and healthy marriage with a woman."
But two years after the birth of their daughter, they decided it was best to get a divorce. Steve left the Mormon faith. However, Jessica is still part of the church and is raising the couple's daughter in this way. "Steve shared who was really with me, and nobody really knew until we divorced. I saw Steve struggle and struggle to survive in our religion, in our marriage, and I couldn't blame him for when he decided to leave. There was a lot of healing to do, but I wasn't Angry at him," the ex-wife says.
Now, 10 years after their divorce, Jessica is married again and Steve is dating a man. The family often gets together to support their daughter who is now 12 years old. "Steve was in a very difficult situation; he was struggling to feel loved and accepted, and frankly, he had suicidal tendencies in that moment. I knew he needed me and we needed him. I needed him to survive and be a part of life. Our daughter," he says. Jess, about their time together. "So we made a plan," she added. "After the divorce, then, we sat down and made a plan for what we ideally wanted this to look like for each other and our daughter. We never wanted our daughter to be embarrassed, and that turned into the beautiful relationship we have today." Jess continued.
+ The man will have a second child with his daughter's ex-boyfriend and announce that he will buy a yacht worth R$23 million for the baby boy
The co-parents are now documenting their family's journey and adventures on the husband-in-law's podcast, working to normalize the mixed, heterogeneous family dynamics. Jessica also helps people who have husbands who come out as gay. "At least five times a week we get people asking for support or help or people saying, 'Thank you so much, you changed the whole dynamic of my relationship or my divorce,'" she said. "It just makes people think about any kind of relationship differently. It's realizing that you have that power within you, and so it was a very humbling experience – to feel that we were able to do this and deliver that by simply sharing our stories. commented.
Admission after 3 children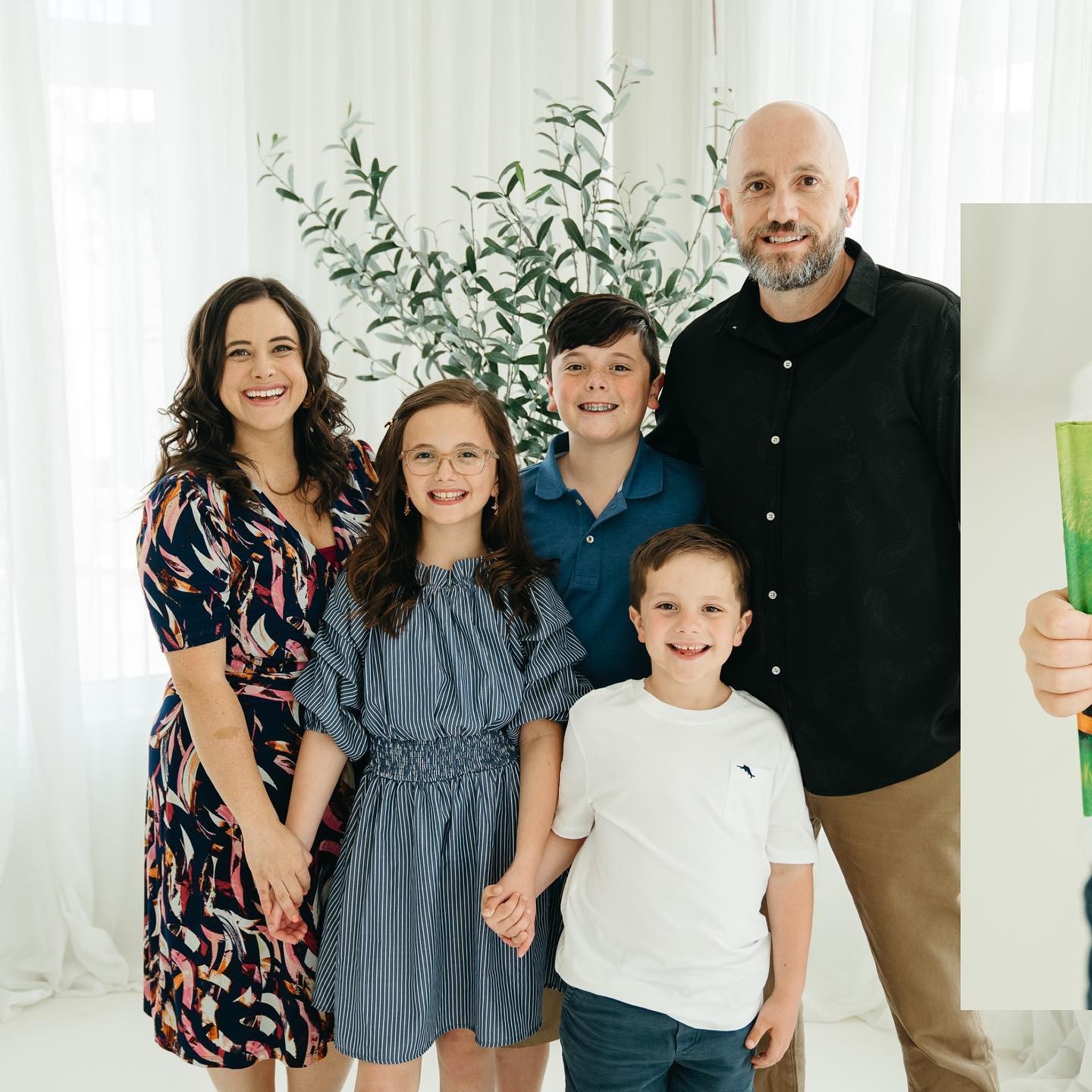 Jessica Turner, 39, met her husband, Matthew Paul Turner, 48, in 2003. At the time, she, who was a magazine editor, sent her a letter inviting her on her first date. Less than two years later, they married. After having three children, now aged 13, 10 and 7, the two decided to go to couples counseling, with Matthew sharing that he was bisexual — a revelation that continued to develop as counseling continued. "He was exploring and understanding who he was and saying those words out loud," Jessica said. "In September 2019, he then told me that he is gay," he added.
In June 2020, Matthew moved. "My love story with Matthew was true, and he will tell you the same. Matthew loved me, and I think that's what made it so difficult for us; because he loves me. He loves me so much. And there was a period when we wondered whether a mixed marriage would work, wherein despite being gay, except that he wants to remain married," he recalls. Jessica adds that although her ex-husband fell in love with her when they first met, she doesn't think he would fall in love with her today. "Matthew understands more about who he is and who he is attracted to, and what God created him with, in a way he didn't understand when he was younger," he explained. "Some of it was suppressed, some of it came the way he was brought up, but that doesn't negate that Matthew fell in love with me," he explained.
Matthew said that when he was four years old, his family left the "Open Methodist Church" and helped establish "an independent Basic Baptist Church – a very conservative denomination of Baptist faith." "It completely changed every aspect of our lives," he said. "We've gone from public education to church-related private education," he says. "We'd go to church three or four times a week, and church became the focal point of our whole lives." He said he knows he's not straight, but his "religious experience didn't allow him to 'explore that as an option.' Instead, he said he did his best to 'bury him.'" He said, "My story is very common for LGBTQ+ people where religion becomes the last thing that keeps them in the closet".
Matthew said he fell in love with Jessica when he first met her and claimed that they had a "very happy marriage" for the most part. "There were certainly times in our marriage when I wanted to talk to her; when I knew I wasn't living in a real situation. But when your story affects other people, you tend to work hard to bury it," he admitted. Over time, Matthew said, he began to lose his joy and personality. "I would bury myself in work or distracting things like TV shows, and Jessica and I would lose touch," he explained. "We went to therapy, and I suffered a lot in therapy." In the end, Matthew couldn't fight him anymore, and he accepted his sexuality and shared it with his mate. "After months of walking, we decided our best option was to end our marriage and move on," he added. "We put our lives and focus on our children and do our best to love each other in this difficult part of our history." That means, for Matthew, taking a risk.
He said that going out to his parents was the most difficult experience of his life. "I wanted us to fully live with the truth and not for people to make assumptions," Jessica said. Since then, Matthew has only exchanged a few text conversations with his father. On the other hand, his mom is the only person who can open up to him more. "Jessica became the main advocate for being who I am, and she was really a focal point of my strength," he admitted. However, Jessica had to go through her own "griefing process" and even today, it's still hard to talk about. "Honestly, I loved being a wife," she said in a broken voice. He admitted, "I loved having someone who cares about my story and cares about his story, and to live with them in a very intimate way in the same house." However, she said she hopes to find love again, but in the meantime, she enjoys knowing how strong and independent she is.
Jessica and Matthew live in separate houses, but on the same street. "The kids see us pretty much every day. We share meals a few times a week. We both attend the kids' sporting events; we made sure we had a family movie night every Friday night at my house. We communicate very much and get along in everything, even screen time," Jessica said. In both homes." "The pandemic has given me the time and space to feel more comfortable in my homeopathic skin. I finally have the time and space to be completely comfortable with my skin."